Bentwhistle the Dragon in A Threat from the Past
Bentwhistle the Dragon in A Threat from the Past is an adventure story children and adults alike will love, about the present day world in which dragons disguised as humans have infiltrated the human race at almost every level, to guide and protect them.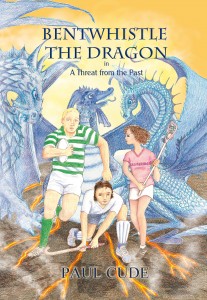 Three young dragons in their human guises become caught up in an evil plot to steal a precious commodity, vital to the dragon community. How will the reluctant hero and his friends fare against an enemy of his race from far in the past?
Fascinating insights into the dragon world are interspersed throughout the book. Ever wondered how dragons travel below ground at almost the speed of sound? Or how they use magical mantras to transform their giant bodies into convincing human shapes?
The main characters love team sports in both their dragon and human shapes, and the lessons they learn from playing sport as humans help them deal with the problems they face in the rest of their lives. Team sports are integral to the plot, and demonstrate the many positive values of playing sports like hockey, lacrosse and rugby.
The action packed adventure also gives a dragon-like perspective on human social issues and insight into what to do if you meet a giant spider grinning at you when you're wearing nothing but your smile! You'd be flamin' mad to miss it.
The 376 page paperback is available to purchase on my website www.bentwhistlethedragon.co.uk for all mainland UK customers. The £9.99 price includes the dedication of your choice, a free Bentwhistle the Dragon bookmark and it is of course signed by the author.
The ebook in PDF format can be downloaded from my website as well.
The book in its paperback and kindle format are available to buy on all of the Amazon sites across the world and from most other internet and high street books stores using its ISBN number: ISBN-10: 0755206789 ISBN-13: 978-0755206780