Salisbury 4th XI vs Poole Dolphins
After last week's defeat to Blandford and Sturminster, a changed squad played their first home game of the season against Poole Dolphins in the league. Right from the start Salisbury overpowered a Poole side with a number of very young, but obviously very talented, players in it. In the first few minutes our first shot on goal fell to me (just be pleased that I got in the right position), and I put it well wide of the post.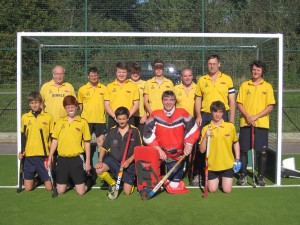 Soon after we scored our first goal, which just added to our confidence (or in my opinion, over confidence). Another followed quickly after, and I think most of the team felt that victory was assured. The seasoned veterans at the back for Poole (yes Nick……YOU!), steadied the ship, thwarting many of the Salisbury attacking moves. The more we attacked, the more gaps we seemingly left for the Poole youngsters in midfield, with Poole being able to counter dangerously on a number of occasions. It wasn't long before Poole won a penalty corner, and something I'd never seen before happened. As I jogged back to the halfway line (it was either that, or run out…………yeah, like that's gonna happen!), I noticed that not a single outfield player stood in front of me. Every outfield player Poole possessed had gone up for the penalty corner. I encouraged (shouted!) at our forwards to get back, PDQ, but run as we might, Poole scored a deserved equaliser from that corner. After that, the game got a little scrappy, with a lot of it being played out in the midfield, poor passes from both teams going straight to the opposition, and the occasional breakaway attack that neither team dealt with in sufficient numbers.
At halftime the team talk for us was all about how well we were doing, being, I think 3-1 up at the time. But for me, it felt as though it was going anything but right…..yes we were winning, but I thought our play was sloppier than it should have been; we were almost casual. And yes I know we had players missing, and yes I know we were winning, but I thought Poole were a constant danger, and it was almost as if we weren't paying them enough respect. We seemed to all bundle forward, with little thought when things broke down, and the Poole midfield players got it. This, of course, is only my view for what it's worth, and we did go on to win the game 7-1, but I felt then as I do now, that against a better, more experienced side, we would be punished dearly……..just like against Blandford and Sturminster last week.
Man of the match for me was again Nick Hillier (not nearly the same without his pink outfit each week), while notable mentions from me must go to Hector Lyons for great work on and off the ball, Dave Hillier, who I thought played better in defence than he did anywhere else (I know this will please you Dave!), Paul Newman for his effort and commitment, and finally Tim Garston and Tom McCormack for their great runs.
Good result all, but it's Trojans again next week, and if we're to beat them, we must all work harder……………..until then!
Photos from this match can be found on the 'Bentwhistle the Dragon' facebook page. Click the button above to take you there and at the same time 'like' the page…….thanks!