I was saddened to hear about the death last week of my favourite author, Terry Pratchett. His books have long since made up a huge part of my life, not just in reading them, but in inspiring me to write my own.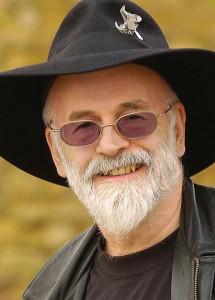 He was a massive talent that will be hugely missed by so many, myself included.
WARNING! BOOK AND PLOT SPOILERS AHEAD!
It all started when my wife bought me The Colour Of Magic for Christmas one year. While not, in my humble opinion, the best book he wrote, it was enough to give me a little taste of what was to come.
It wasn't until I was introduced to the fabulous Sam Vimes that I became truly hooked on the Disc World novels. Just writing his name is enough for me to be whisked off into the myriad of his adventures with all the other guards. Carrot, Angua, Nobby Nobbs, Colon, Detritus, Cheery, Lady Sybil and Lord Vetinari are all such brilliant characters who play off  one another to perfection. Carrot and Angua's relationship….. a werewolf and a human that's a dwarf. Fantastic. Nobby and Colon, the two best friends that will do anything to stay out of trouble and do as little as possible, which despite their best efforts, never seem to come off. Cheery the dwarf…….a forensic specialist, a young lady hidden beneath her beard. Detritus, the hard as nails troll, who gets cleverer the colder it becomes. And of course the tyrant Lord Vetinari who orchestrates things down to the finest detail, without whose precision plans, the city that they all inhabit would cease to function. FANTASTIC! Every single book about Sam Vimes and the guards has captivated me. I think apart from the very first, each and every book after, I've bought on the day it's come out, a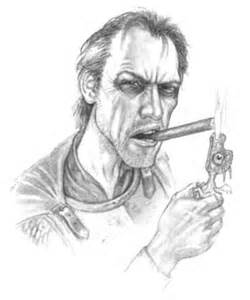 rarity for me, apart from the odd Star Wars Expanded Universe book. Feet Of Clay, Jingo, Guards! Guards!, The Fifth Elephant, Men At Arms, Night Watch, Thud and Snuff all run through my mind at just the mention of their titles. Adventures intricately written, and fabulously told, so bold and clear I can see the characters in stunning detail, playing out like a movie in my head. It's not only the plots and the characters though. One of these books……….The Fifth Elephant, is my favourite book of all time. It's hard for me to describe just how good it is. The very start is hilarious, and looks to me like the king of words, Terry Pratchett, would have, around the time of writing this, either been caught speeding by the police or had his car clamped, given the clever way this topic has been woven into the start of the book. Truly wonderful! Although clever and amusing (just like the whole book), it's not the best part in my opinion, or indeed the funniest. One part above all others made, and still makes me laugh every time I read it. It's making me smile, just thinking about it. Carrot enlists the help of the talking dog, Gaspode, to help track Angua. After freeing a wolf from the clutches of some villagers, Carrot asks Gaspode what the name of the wolf they've freed is. Reluctantly, Gaspode tells him. I won't tell you what the wolf's name is, but that whole section is so funny. Made me cry with laughter when I first read it.
Much as I've harped on about Sam Vimes and the guards, there is still much more to Disc World than all of that. The Thief Of Time is a rollercoaster ride of merriment and mayhem that I've enjoyed reading over and over again. The same could be said for Making Money, Going Postal and Raising Steam. To come up with an amazing character such as Moist von Lipwig just shows what a talent Terry Pratchett really was. I love everything about him, and I'm sure like me, everyone that reads these books ends up rooting for him to succeed against the odds.
While these are my favourites, I have got nearly all of Terry Pratchett's books tucked away on my array of bookshelves.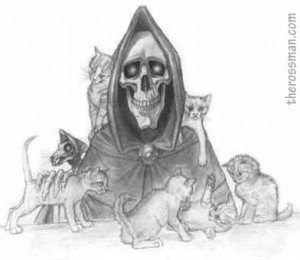 I've taken great pleasure from reading Unseen Academicals, Wintersmith, Nation, Sourcery, Equal Rites, The Light Fantastic, Carpe Jugulum, Pyramids, Mort, The Hogfather, Witches Abroad and undoubtedly I've left out a few, there are just so many. I have extremely fond memories of reading, and rereading, all of these books. They have given me so much pleasure. So I would just like to say a great big THANK YOU to Terry Pratchett. Your words, stories and wonder will remain with me for as long as I live. I for one will miss you a great deal. And if for some reason you haven't read any of Terry Pratchett's work. Then you really should. He was a genius in every sense of the word. Wander down to your local bookstore and treat yourself now!