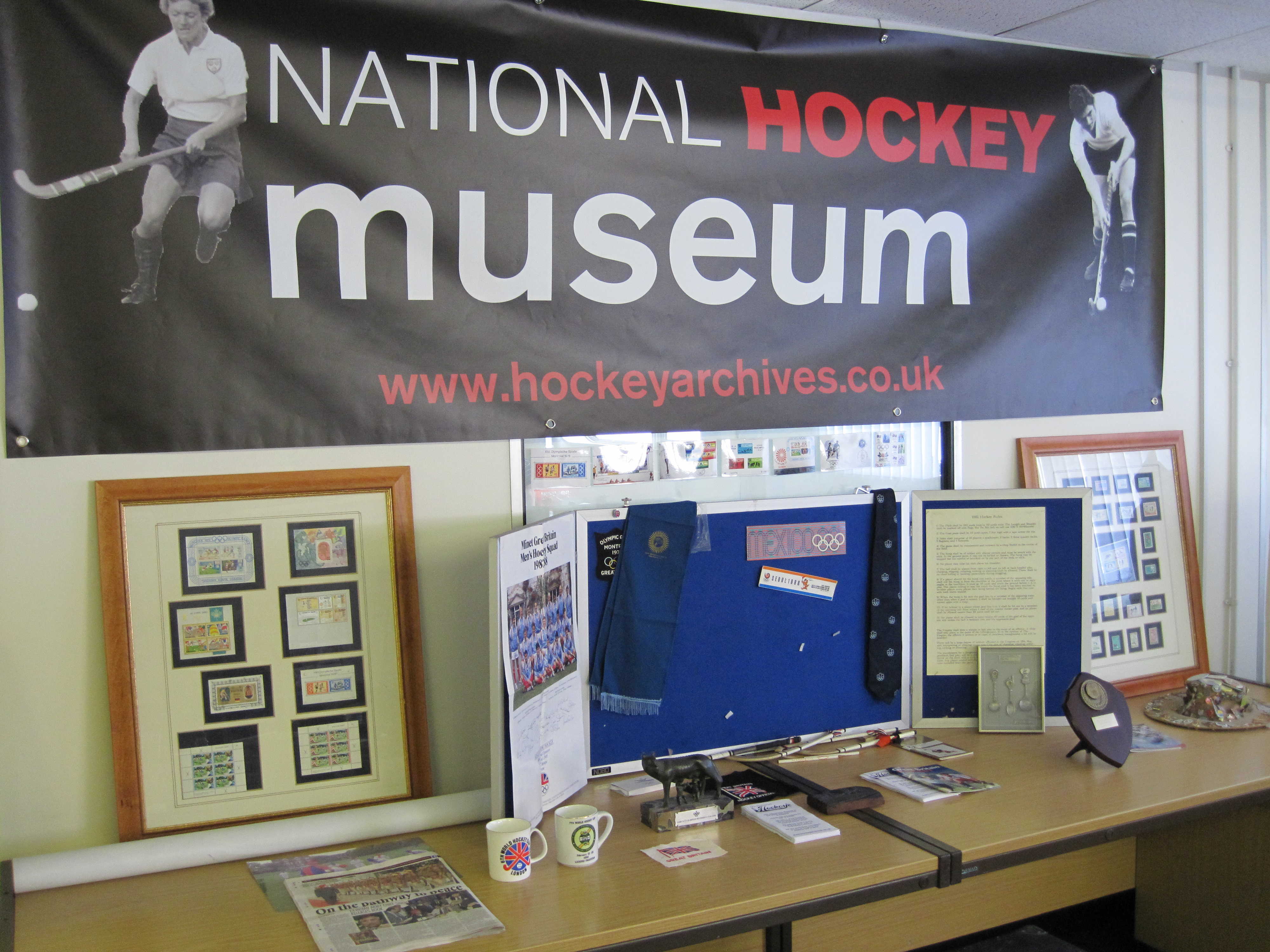 About a month ago, one afternoon, while researching some details about one of my blogs on the internet, I stumbled across a website. Unusually, it was one I'd not seen or heard of before, something of a surprise given all the information about hockey clubs and hockey related websites I've collected and collated on my own website over the past year. This website was for the National Hockey Museum http://www.hockeyarchives.co.uk/Default.aspx and from the split second that I laid eyes on it, it captured my imagination. I watched as hockey images from a different era scrolled past on my computer screen, hooked instantly. I spent the next twenty minutes or so delving into each and every part of it, determined to know more about this mysterious site that I'd so innocuously stumbled upon. It didn't end there either. I added it to my favourites, and went about the rest of my day, still thinking about that site in the back of my mind. I still remember thoughts of it whizzing round my tiny little mind as I dropped off to sleep that night.
The next day I felt compelled to email the National Hockey Museum…I'm still not really sure why, but I'd added their link to my website and just felt I needed to tell them what a wonderful surprise it was to find their site. The response I received the following day was warm, friendly and clearly from a fellow hockey player and enthusiast. What stood out most was the fact that Mike Smith, the curator of the museum, and the person who'd sent me the email, had offered me the chance to go and visit. Boy….I didn't need to think about that opportunity for very long, and an email and a phone call later, all was arranged.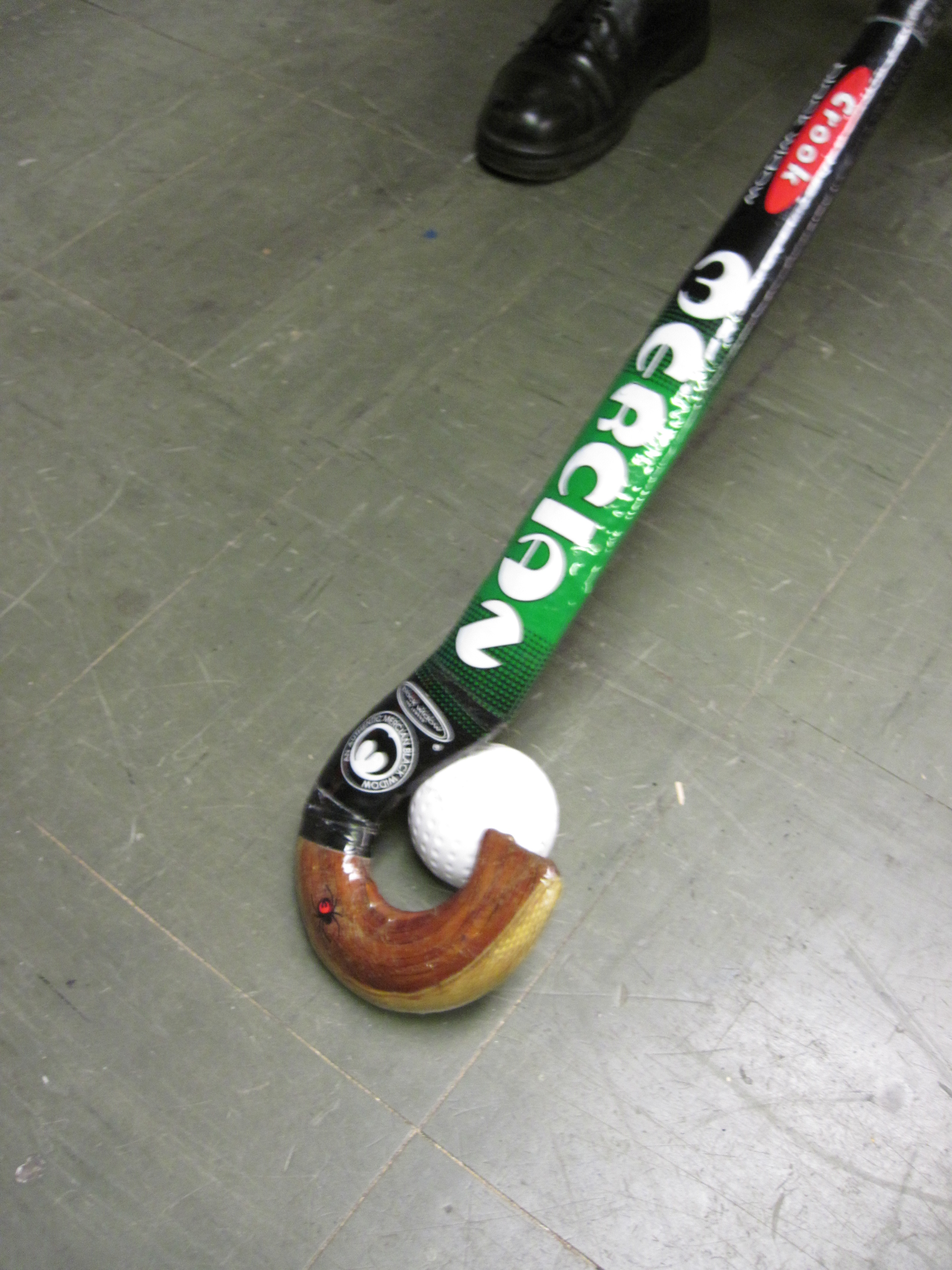 Yesterday I went along to the museum and had the most fantastic few hours listening to Mike Smith speak so passionately about his love of hockey, his work at the museum and the witty and amusing stories all related to hockey. After an introduction and a brief history of the museum, we got to have a look around at just a fraction of the goodies they have there. What can I say?! It was a veritable treasure trove of sticks, balls, pictures, paintings, books, videos, clothing, goalkeeping kit, memorabilia of all kinds….stamp collections, badges, hats, pins, postcards….you name it….they have it. Not only that, but they care for it, catalogue it and value it like no one else would. I was (and I'm sure my children can attest to this) like a small child on Christmas morning. Quite literally I didn't know where to start. My body was naturally drawn to the sticks….so many, each different. Some from eras gone by, different heads, old grips. Some interesting ones (like the picture above), a left handed stick, the jet stick……each and everyone with a story, each and every one lovingly looked after.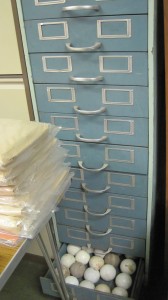 BALLS!!!!! (Excuse me?) Hockey balls…..a history of! A huge cabinet full of hockey balls of every type, again from very long ago. Looking at just a few of the ones from when playing on grass was commonplace, brought back the most vivid memories…mud, rain, umpires having to stop the match to clean the mud off the ball, cleaning football boots, matches being cancelled because the pitches were flooded or frosty….so many memories. There were shelves of videos waiting to be catalogued… "VIDEOS…what on earth are they?" I hear some of you say (younger ones mainly).
The stamps on display were incredible….and they have a collection with every hockey stamp from across the world…….EVER! There were jackets worn by Olympic hockey players, badges, pins, hats, signed photos. You name it, they probably have it. They even have a huge collection of postcards that are currently being catelogued. "Postcards?" I hear you ask. Yes, postcards. Apparently (this was a little before my time, but sadly not by much) before phones were everyday objects, owned by all, the clubs used to keep in touch with their own players and other clubs by……postcards!!! I looked at a few, and found myself drawn in. Looking at how the clubs were arranging fixtures and contacting their own players from so many decades ago……call me sad (and I know some of you will) but I found it utterly enthralling. My wife isn't a hockey player (and yes, she's got to put up with a whole lot – hockey wise – with me) but she would have loved everything that I saw yesterday…perhaps not the sticks and balls as much as I did, but she loves her history, and the history and the records of the clubs and the players was just brilliant.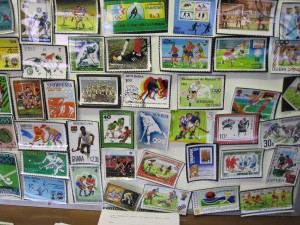 But what really caught my eye were the rows and rows of books and magazines….going back a very long time. I think a little switch inside my head 'clicked'. My love of hockey, reading and the fact that I'm an author all merged together with just one thought. 'You could leave me in here for about a week…and still I wouldn't be in the least bit bored…with the books alone.' Just flicking through a couple proved absolutely fascinating. Facts about hockey, the clubs, and associations from over one hundred years ago. To see Salisbury hockey club mentioned, and so many of the clubs I've played against in the past, in that historical context was amazing. That is what my wife, a non hockey player would have loved, almost as much as me.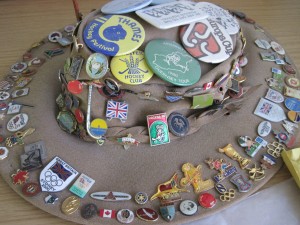 So there you have it – my few hours at the National Hockey Museum. They have some fantastic hockey memorobilia, but I know they are always on the look out for more. There was one item, that had been donated towards the end of last year, that we weren't allowed to see, but were told about, and I hope just might be on show when the museum opens. The only word to describe it is …….AWESOME! So I urge you, take a look at their website from the link above and check out the great work they do. And, if you have anything to donate…..please do so. I did, it wasn't much, a couple of sticks that actually mean rather a lot to me (sounds stupid getting attached to sticks….but I'm guessing most people reading this will understand). But just knowing that they're there, along with all the other items….in a place where they should be and will be well looked after…makes me feel really good! So if you have things to donate…please do. If you have time to spare and are able to offer your support as a volunteer…please do. If you can put a weblink on your club's website….please do. It's a fantastic place, looked after by great people and I thoroughly recommend you go and visit it when it's open.
If you'd like to see more of the photos from my day out click through to my website and check out the gallery section, or check out the 'Bentwhistle the Dragon' facebook page.