Writing duties are mostly put to one side as the job of dad/entertainer takes over this week. Luckily I'm not getting any sort of rating from the kids (that might be a bit depressing, and a bit on the low side).

Our first trip was to Splashdown in Poole. Not entirely sure what to expect, I did regale the kids with tales from when I went there with a friend, pretty much when it first opened (I won't mention how many decades ago that was), and told them about my most vivid memory. My friend had been before, and knew all about all of the slides. Taking me to the start of one up what seemed like a million flights of stairs (there was even a lift, I seem to recall…..that should have given me a clue), we both stood alone at the start of a very darkened tunnel, with only the rushing sound of water for company.
He'd told me this one was tame, and just a long winding ride down to the bottom. Gullibly I believed him, and with him insisting I go first, I duly jumped in. FLIPPIN' HECK! When we met up at the bottom, he was beside himself with laughter.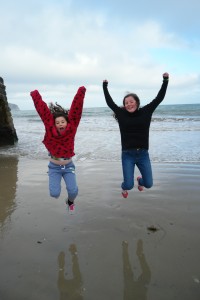 He said, "I knew when you'd got to that bit, because all I could hear coming up the slide was, 'Aaaaaahhhhhhh!!!'" VERY FUNNY! The bit that he was referring to was a straight down, vertical, sheer drop, and given that the tunnel was entirely black, shrouded in total darkness, there was no way I could have even known that was going to happen. It was more the surprise than anything that had me screaming. Well at least that's my story and I'm sticking to it.
The park had changed somewhat since I was last there (no surprise there given how long it's been), and it took a while to get the hang of where everything was. The outside rides (the really, really fast ones) weren't open due to the weather, so we were confined to the inside. No bad thing really given that I really had to keep an eye on both kids. But we explored pretty much everything. I was shocked, in pretty much the same way as my first visit, by a ride called the Space Bowl. It's a leisurely slide down to an open bowl where you whizz round and round before unceremoniously being plonked through a great big hole in the middle, which I mistakenly thought would lead to another slide, but instead dumps you into a two metre tank full of water.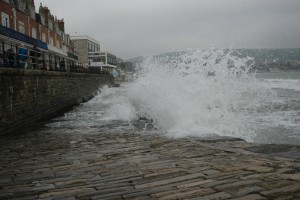 Again, more the surprise than anything else. Both kids followed me down, with them both being surprised like me. My youngest and I decided we didn't much care for that one, while my eldest went on again, straight away.
We all had a great time on the rapids with our blow up rings. That was a hoot, despite how many times we all came out of the rings, and the best ride by far that we encountered, in my opinion anyway. The rest of the slides were quite mild, with only the Baron's Revenge causing a little angst, and making my youngest scream for all she was worth. Given that it's under six seconds from top to bottom, something of an achievement I think you'll agree.
All crammed into two, what seemed to me, like very long hours. A good time, despite all of the bumps and bruises, and boy do I have a badly bruised knee.
Hengistbury Head was next, one of our usual haunts.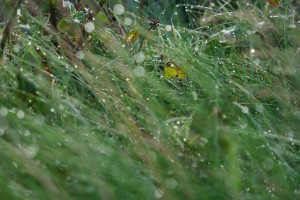 Much skate boarding (not me…..WAYYYY TOO OLD) and mucking around on the beach, lots of photography,(me) and given that it's the end of October, we were all in tee shirts by mid-morning. MAD!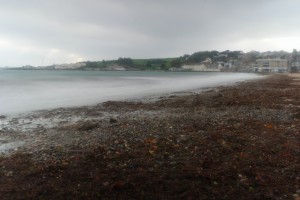 Another familiar haunt in the shape of Swanage followed. We did manage a brief walk along the beach, but for the most part, it was a bit too blowy. Taking in the shops and the fabulous steam railway, you can take a look at our journey back on the train from Norden to Swanage on my YouTube channel.
Gunwharf Quays was our next destination, with both of them excited at the thought of looking around the shops, the eldest more so. Trainers were the main objective for both of them, and had been sorted after the shops had been open for only twenty minutes. RESULT!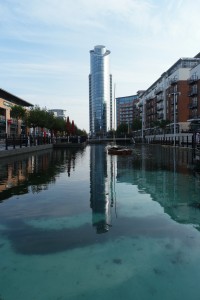 After that, a leisurely stroll around, interrupted by a family game of bowling at the Bowlplex. I'd not been in there before, and would have thought with the kids being on holiday it would have been packed, but no. It was relatively quiet, and very enjoyable. A great way to break up a shopping trip.
So there you are, dad duties so far. Back to the writing and social media soon.