My love of all things fantasy and comic books seemed to go up and down throughout my teenage years. At one time there was a fabulous comic book store in Salisbury (think Stuart's store from The Big Bang Theory, only smaller) just a few moments' walk from where I currently live. It was heaven, and I could often be found in there, spending what little money I had on Superman, Batman, Green Lantern and Justice League comics.
Unfortunately it didn't last more than a few years, which wasn't surprising really given the distinct lack of trade. So with my life revolving around playing hockey, all thoughts of strange new worlds and the events unfolding within them, drifted to the back of my mind. Until, that is, the day I had to go and fix a fax machine in a very large bookshop in the middle of Southampton. Tool case in one hand, paperwork in the other, I remember trudging through the store, only focused on getting the job done and getting out. It didn't take long, and the manager was very grateful. After getting him to sign the paperwork, I weaved my way in and out of the bountiful bookshelves, heading towards the huge glass framed exit. It was then that it caught my eye. Unbelievably, I'd nearly walked straight past it, or rather… them. A whole display advertising one book. I was stunned, that is until I dumped my tool case on the floor and picked one up. The cover was intoxicating.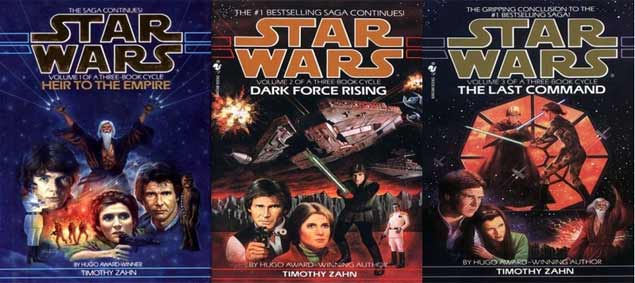 My favourite characters were looking out on me in all their glory. It was one of those moments when time stands still. I can recall it as if it were only yesterday and not 1991. Taking in the droids on the spine as I turned it over in my hands, I stood lost in another world, reading the blurb on the back. Short but sweet would be how you'd describe it, but I was long since hooked. I had to have it… NOW! Struggling back to the front desk of the store with my tool case, paperwork, and my precious purchase, the staff, who I'd just been working amongst, all looked bemused. I didn't care. After paying I rushed to the car, and made the fatal mistake of starting to read it. I should have been working. I had other jobs to do. I must have read for about half an hour, just until my parking ran out.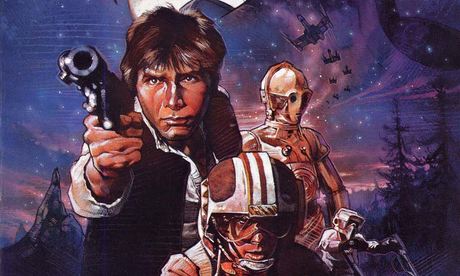 After that I had to get on and do the rest of my calls, but all I could think about for the rest of the afternoon was that book, sitting on the floor of the passenger side of my car. My evening had just been booked up. It wouldn't of course be difficult for you to guess that I stayed up nearly all night. Yes it was that good. I couldn't put it down, and the weariness that I felt the next day was well worth it. And more momentous than all of that, was the fact that the book in question had started me off on a journey that would last with me for a lifetime. Numerous other books in the saga have been bought, read all in one go despite everything going on around me, and nearly all have given me the same sort of satisfaction as that one.
Ahh… so now you'd like me to tell you the name of the book. It was Star Wars Volume 1 Heir To The Empire by Timothy Zahn. And it was nothing short of fantastic, especially to this huge Star Wars fan. I can't tell you how many times I've read my battered and tattered copy… but who cares? Each time it sends shivers down my arms, even though I know what happens. For me it's a classic and that's without the fact that it has led me deep into the Star Wars expanded universe. As well as this three book cycle, the second and third instalment of both of which I had to buy on the day they came out in hardback, reading them both the said same day, Timothy Zahn has written many other great expanded universe titles.  He is definitely an author I would love to meet and get to know better. I only hope that Disney in all their wisdom do justice to the new film coming out. The books of the expanded universe have meant, and still do, a great deal to me. While I understand the reason for the changes, I'm not entirely sure I agree with them. Only time will tell. Here's hoping.