Summer Holidays
Still being dragged through the summer holidays kicking and screaming by my kids.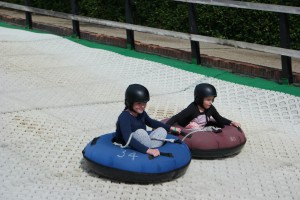 Another trip to Snowtrax this time to zip down the slopes at speed on the ringos, and not the ski-bobs. Fun was had by all, and I was dizzy just watching and taking pictures. On top of that, Swanage beckoned once again, with a very long day on the beach. I swear my youngest is part (well, nearly all) mermaid, staying in the water from 9am, through to nearly 3pm. Mad doesn't begin to cover it.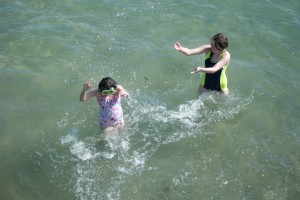 And this time, instead of a round of putting, we went and hit the 'Pitch and Putt'. This was a new experience for the kids, with my youngest being thrilled. "This is just like on the telly dad," she told me on seeing the first hole. "Do you want any help?" I asked, figuring she would. Nope, not a chance. Oh well.
The last couple of weeks has seen them both learn to skateboard, unlike their mother who has had a few almost You've Been Framed moments when trying to board their board, so to speak.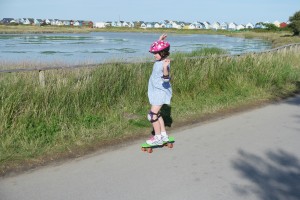 But they're very pleased with their accomplishments, with both announcing that they might turn professional. I'm not sure they truly grasp the concept somehow.
Not sure what the weather's like where you are, but the sunshine must have witnessed something very bad around here, and be tucked away in a safe house somewhere. Haven't seen it properly for what seems like an age. Just a few hours' worth would be much appreciated.
Book News
The final proof of 'Bentwhistle The Dragon in A Twisted Prophecy' should be with me any time now. As soon as I'm happy with it I'll post a release date here. Not long to wait, I'm sure.
I did mention that I was working on a short story (SHORT…..that's a laugh. Turned out to be just shy of 35,000 words. Much longer than even I anticipated) a few weeks ago. Good news. It's finished and with a little editing, should be ready shortly. It's called 'A Right Royal RumpASS' and dates back to when the dragons were in their second year at the Purbeck nursery ring.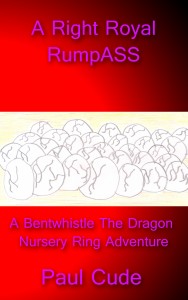 A competition with another nursery ring leads to Richie and Peter making friends with a new student, whilst discovering an unerring secret about another, all set against the backdrop of student life. But most importantly of all, you learn how Richie gets her dragon name. The illustration for the cover was produced by youngest daughter Poppy. To find out why it had to be that, you'll have to read on. My wife and children tell me that they laughed until they cried when they read it. JOB DONE!