A little about you:
I'm a naturopathic doctor.  (That's primary care but with an emphasis on lifestyle and natural remedies before drugs.) I also teach chemistry – I guess because I get bored quickly so I like to do a lot of different things in a day.  And I'm a strong Christian.
A little about your writing:
I write YA fantasy fiction because that's what I like to read!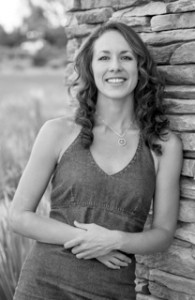 I like YA because it's clean (usually), and I like fantasy (with a bit of a sci fi tendency) because I spend enough time in the real world – if I'm going to imagine something I want it to be fantastic!
What genre would I say your writing is?
Oops, just answered that.  YA fantasy.
What inspired you to start writing?
I've been writing since I was in elementary school… although back then all my main characters were cats.  (Go figure.)  
I've got about 12 shelves' worth of journals throughout my life, and have always felt that words are incredibly powerful. I minored in Creative Writing in college.  I guess I always knew I'd end up writing eventually.
How has writing changed your life?
It kept me sane in med school!  I got the idea during my first year I think, and I wrote most of the first two books prior to graduation.  I needed a right-brained escape!
If you were going to read, which format would you choose: book/tablet/PC/phone and why?
Paper all the way!  If it's non-fiction, I'm a highlighter, so I have to have paper.  If it's fiction… I don't know.  I'm old fashioned, I guess.  If it's on my iPad I tend to forget it's even there… unless it's REALLY good.
What is your favorite book ever?
I can't pick just one.  I love the "Anne of Green Gables" series, and (of course) the "Harry Potter" series.  I also loved "The Fountainhead," and "The Chronicles of Narnia."
What are you reading at the moment?
Cassandra Clare's "City of Bones"… and multiple non-fiction books, some medical, some counseling, some Christian.  I usually read 4-8 books at a time.
What is the best piece of writing advice you could give and why?
Make a writing schedule and STICK TO IT.  I don't care if you don't feel like writing; I don't care if you have writer's block – put something on the page anyway. You can always edit it later if it stinks!
If you were a dragon, what kind of a dragon would you be?
A Norwegian Ridgeback. 😉
C.A. Gray
Author of "Intangible"
Follow on Twitter @AuthorCAGray