With the inevitable end of the summer holidays closing in around us, and with the normal hectic routine about to resume, I can look back fondly on some of the wonderful days out that the Cude family have had during this gorgeous summer. I've already mentioned Swanage and Cheddar Gorge, two great places to visit, and well worth it if you've never been.
But somewhere we decided to go, and have been meaning to for a long time, is the Jurassic coast down in Dorset.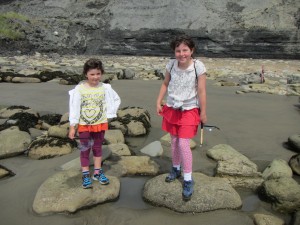 We've never been before, so we made the most of an opportunity to do so, and it was brilliant. We set off nice and early………since the kids wake up, it always makes sense to go early and try to avoid the traffic. We'd already chosen Charmouth as our destination, and I suppose it took us about ninety minutes to get there. We arrived at the Heritage Coast Centre at about 9.40am, by which time it was starting to get a little busy. (We had all but the last space in the car park by the sea.)
Once it opened at 10am, we headed into the Centre, fascinated by the intricate and informative displays on show. Unfortunately the guided fossil walk was fully booked (something you can sign up to online to avoid disappointment, and something we hadn't done……DOH!), so instead we bought the children a fossil hunting kit each, and hit the beach. Each kit contained a safety goggles, information on what to look out for, where to go, and how to crack open the rocks that may or may not contain fossils, as well as the all important………..HAMMER! Now at this point I should point out that we were on the beach for many hours, exploring not only all the rocks and stones but the stunning rock pools as well.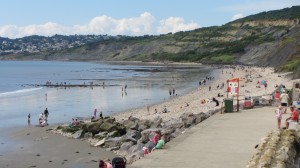 Searching for the right rocks to crack open, and having a go at them was incredibly exhilerating and completely addictive. Once you'd done one, you were desperate to find another of the right type to have a go at that one. In all…….it was FANTASTIC! Needless to say, we didn't find a single fossil in all our time there, but in our defence, there had been plenty of hot days beforehand, with hundreds and hundreds of people hitting the same beach we had, every single day. Apparently, the best time to go is right after a storm, so we intend to head on back during one of those times. But it takes away nothing; we had a fantastic day, and got to see a stunning part of our beautiful country that we'd never seen before. If you haven't been to that part of the world, you really should go.
Next is the wonderful Hengistbury Head, a regular haunt of ours. It's an absolutely gorgeous part of the coastline, and somewhere that's just fabulous very early in the morning.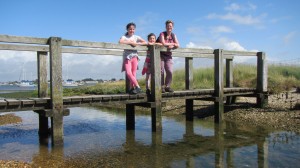 That's when we tend to go, and summer or winter, you can always guarantee to be met with a surreal, stunning beauty that would be hard to find elsewhere. In the past we've taken the kids bike riding there; it's a great place to learn, and as I've mentioned, early on, there's practically nobody about. But during the summer we've just gone and sat on the beach, played beach games or taken to the sea. The kids enjoy building intricate sandcastles or just making pictures with all the stones and shells in soft golden sand. They also love crawling along the rocks that intermittently stretch out into the sea along the entire length of the beach.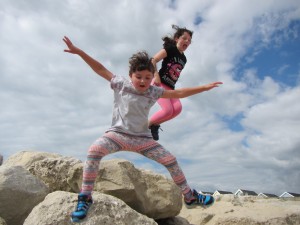 One of their favourite pastimes is to leap off the rocks and onto the golden sand, either on their own or together. This can keep them amused for absolutely hours, and provide their dad (me) with some fabulous pictures to put up on the wall.
Other things that have take our fancy over the holidays include a great afternoon in Bournemouth, with the kids trying out all of the amusements in and around the pier, as well as wandering through the stunningly beautiful winter gardens.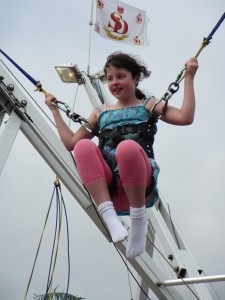 The last few weeks have seen us all do a lot of family cycling…..something we all enjoy, but something that for a long time has seemed a very difficult thing to do, mainly due to where we live. But we have since done a couple of the wonderful Skyrides, and found them to be really great, particularly with a view to the kids riding. Last week, over the bank holiday weekend, we got soaked on one in a park across the other side of town on the Sunday, but it was perhaps the most fun we'd all had cycling in absolutely ages.
So there you go, not quite everything we've done this holiday, just some of the highlights. I hope you've enjoyed reading about them, as much as we have actually doing them.