A Little About You……….
My name is Christoph Fischer and I am a German expat living in the UK countryside with my partner and three dogs.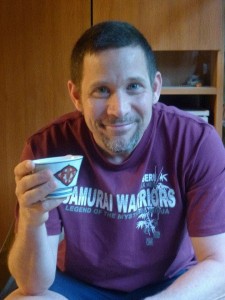 I am a house husband and carer and when I am not glued to the computer, writing or blogging I run, walk the dogs or read.
After a career in travelling I am very domesticated now and wish I made more time for outdoor sports, travelling, philosophy and psychology. I like TV comedy programmes, Eastern Philosophy, meditation and going to the cinema.
A Little About Your Writing……….
I have written several novels, most of which are still in draft form, but two have seen the light of day and are part of my thematic Three Nations Trilogy: "The Luck of the Weissensteiners" (set in 1933 – 1946 in Slovakia) and "Sebastian" (set in Vienna in the 1910s). (See below for more information.) "The Black Eagle Inn" (set in post-war West Germany) is in the last stag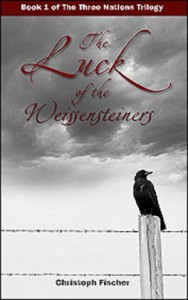 es of editing and should be published later this year.
The trilogy is deliberately not in a chronological order and does not concern the same protagonists. It explores the themes of identity, the creation of nations in Central Europe and the books are intended to work as mirrors for each other.
What Genre Would You Say Your Writing Is?
So far I have only published historical fiction but some of my drafts are more contemporary and I plan to publish at least some of them next year. I have written about mental health, Alzheimers and society drop outs. And more about wars…

What Inspired You To Start Writing?
During some genealogy research about my family roots in Czechoslovakia I got fascinated by some of the historical details that I had never heard about. I have not met some of the older generation of my family because of the political circumstances, so my imagination had to fill in the blanks in my family history. Some basic plot ideas soon came into my head and I began to broaden my research. I wrote these ideas down and very quickly the pages just piled up. I carried on out of curiosity, to find out if I could see the project through and end up with a novel. Writing fiction proved a lot of fun, even when writing about sad events. I was instantly hooked.
How Has Writing Changed Your Life?
I used to have too much time, which led to the writing in the first place. Now I have very little time at all to write. I am still trying out how to work the new media and networks while desperately trying to keep my family life unaffected by all the marketing. But I also have made a lot of new friends, not all of which are imaginary or characters from my books.
If You Were Going To Read, Which Format Would You Choose: Book/Tablet/PC/Phone And Why?
I am a bibliophile (I used to work in a library for years) and will always prefer a paperback. However, I review a lot of books for other authors and my blog and tend to read most of those on my kindle. Many of the books are free, on promotional sales or are sent to me as files. In paperback I could not afford the volume of books I currently read.
What Is Your Favourite Book, Ever?
A tie:
Shantaram by Gregory David Roberts.
The Gift of Rain by Tan Twan Eng
I read both books at least twice a year and am still not tired of them. Set in exotic loactions, with deep and troubled characters, drama and some philosophical edge to them.
What Are You Reading At The Moment?
James Michener: Chesapeake

What Is The Best Piece Of Writing Advice You Could Give, And Why?
Keep writing, all the time. It is easy to get carried away with marketing and networking, but writing is a craft and practice makes us better, however great our ideas and our editors are. We need to put some leg work in it all the time.
If You Were A Dragon, What Kind Of Dragon Would You Be?
I would prefer to be a Sea Serpent water dragon in shallow waters, not the deep sea. I love to soak in a bath and swimming in rivers and lakes. The serpents seem peaceful and less stressed than the flying dragons. If I had not worked for an airline my answer might be different.
Author Website
His Book Recommendations:
Christoph Fischer on Facebook:
My profile on Goodreads:
 

Amazon US:
Amazon UK:
Barnes and Noble:
The Three Nations Trilogy
The Trilogy is an attempt to illustrate themes of family, ethnicity and the concept of Nations in three very different yet similar times and settings in Central Europe. Not written in chronological order and not linked via the characters or plot connections the books are a close up of individual and at times very different experiences of same outer circumstances. Together they form a jigsaw puzzle of identity issues and belonging in volatile political dynamics.
The Luck of the Weissensteiners
In the sleepy town of Bratislava in 1933 a romantic girl falls for a bookseller from Berlin. Greta Weissensteiner, daughter of a Jewish weaver, slowly settles in with the Winkelmeier clan just as the developments in Germany start to make waves in Europe and re-draw the visible and invisible borders. The political climate in the multifaceted cultural society of disintegrating Czechoslovakia becomes more complex and affects relations between the couple and the families. The story follows the group of characters throughout the war with its predictable and also its unexpected turns and events and the equally hard times after.
What makes The Luck of the Weissensteiners so extraordinary is the chance to consider the many different people who were never in concentration camps, never in the military, yet who nonetheless had their own indelible Holocaust experiences. This is a wide-ranging exploration of the connections between social location, personal integrity and, as the title says, luck.
Sebastian
Sebastian is the story of a young man who has his leg amputated before World War I. When his father is drafted to the war it falls on to him to run the family grocery store in Vienna, to grow into his responsibilities, bear loss and uncertainty and hopefully find love.
Sebastian Schreiber, his extended family, their friends and the store employees experience the 'golden days' of pre-war Vienna and the timed of the war and the end of the Monarchy while trying to make a living and to preserve what they hold dear.