I'm lucky enough to be looking after my kids during their 6 week summer holiday from school. As a teaching assistant (at another school) my school timetable generally matches theirs, meaning we don't have to shell out for child care, and I can look after them both.
So far this holiday, lots of things have happened. Chief for me is that I've finished writing my second book, and am in the process of editing it, and looking for some artwork. As well as that, I thought I'd tell you all about some of the fantastic things we've been lucky enough to do as a family already.
Of course I've raved about it here before, so what with the hot weather we've been having, it should come as no surprise that we visited the lovely Dorset town of Swanage on a few occasions, and last time we spent over 8 hours on the beach…………FANTASTIC!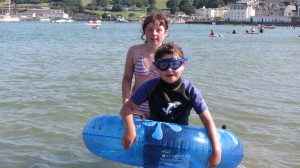 Digging, making sandcastles and moats on the golden sand, as well as swimming in the clear blue waters, made for just gorgeous days, and it's hard to think of a better way to spend the time when the sun is out. As well as that, there were lots of extra activities because it was the town's carnival week.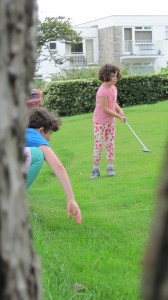 Once again the golf putting course was unavoidable, the kids determined to put their parents to shame. Perhaps they did, my memory on that matter seems to temporarily fail me.

Browsing the fabulous array of shops was also compulsory, not just for me, but my wife and kids as well. For me, there are a couple of second hand bookshops that I could just wile away the hours in. My wife discovered a shop we'd never visited before……….selling handbags. I think I'll be paying a visit there, just before Christmas by the sounds of it. As for the kids, they like the toy shop, all of the places that sell shells, etc, but in particular there is a shop called Curiosity that sells fantastic items, and always enables them to part with a large amount of their pocket money.
Another of our days out led to an exciting adventure at Cheddar Gorge, somewhere the kids have never been, and somewhere that my wife and I haven't visited for many decades. As is usually the case, we arrived early……..about 9.30am. Nothing opens until 10, so we were one of the first there.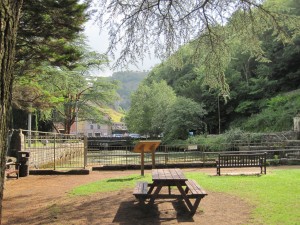 After a brief wander, marvelling at the gorge, the river running through it and all of the terrific little stores littered along it, we gained our tickets and headed off into the main cave, being the first ones in there. Now, we'd left it as a surprise for the kids……….they had no idea where we were going, not until we actually got there. The first thing my youngest said when we arrived was………."I'm not going in a cave!" Given that this was the main reason to be there, it was something of a disappointment to hear. But after gentle coaxing, she led us into the main cave, and was as staggered as we were at the awe inspiring beauty of the formations in the underground caverns we found ourselves in.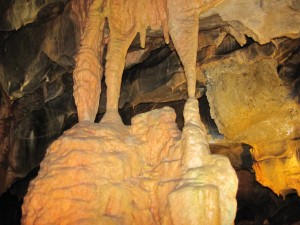 As well, both kids listened intently to their audio guides, typing in all of the right buttons throughout our journey within the cave system. For me, the audio guide didn't really hold too much appeal. I listened I suppose on a couple of occasions, but preferred instead to study the rocks and minerals in the walls of everything we passed through, hooked on all the stalagmites and stalagtites.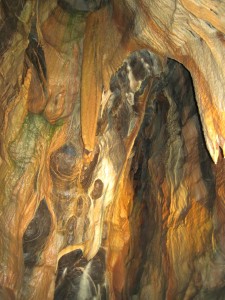 It was a great thing to go and do, and being some of the first ones in there allowed us to wander at our leisure, take photos and spend some time on all the really great bits. We all loved it. After that, it was on to the open air double decker bus tour of the gorge which was great, and again, the kids really enjoyed it. After being dropped off, it was a quick hop across the road (quite literally) to the museum, which I would have thought would have been my least favourite bit of the day. But it was wonderful. The kids got to make clay pots outside in the garden, and decorate them, as well as dressing up like cavemen in all the attire that was scattered about.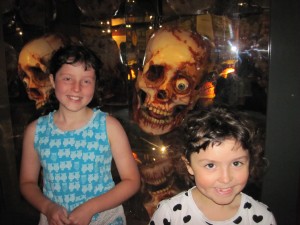 The displays inside were all fascinating, with the kids able to do their own cave art. They were both a little squeamish at the giant revolving skull, but had a thoroughly good time. The rest of the day saw us visit the much smaller cave….but that too was amazing fun, even seeing a huge dragon with smoke pouring out of its nostrils.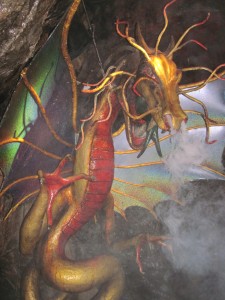 A visit to the shops was mandatory once again, with the kids visiting a sweetshop where you can watch them make sweets in their workshop…. stunning! The final thing we decided to do, was climb Jacob's ladder, and go up to the lookout tower and enjoy the spectacular view. The kids zoomed off in front of us, and were well ahead getting to the top. I think there were about 280 steep steps in all. Great view………well worth it, but just perhaps they should tell you to warm up for a few minutes beforehand, as my calves were aching some three days later from the trip up and back!
In all, we spent much longer there than I would have anticipated, and could have spent longer still. It was a great day out, and we all came back absolutely exhausted, but amazed. I would definitely recommend this to anyone.