Randall Emery was born in Lawrence, Kansas and raised in Kansas City. He has moved more times than he can count within Kansas and then to Missouri.
There is one quote that stands out in his mind that he remembers his mother saying to him when he was younger, "All small children are to be considered as packages of concentrated love because they are a gift to us from the good Lord, God above." He doesn't know where that quote came from, if it was something she said herself or something she had heard but it still affects him to this day and is at the core of his beliefs. This quote and his relationship with God had led him to create stories for children that teach them to live a good life.
SYNOPSIS: As a circus train moves to the next town, a storm knocks it off of its tracks and the animals find themselves alone, scared, and without anyone to care for them. Beth, the teaching turtle, becomes their mentor and savior teaching them to survive in the wild.
Four years after the catastrophe, Alfred the Timber Wolf wants to be with the humans again. When Alfred leaves the other animals behind in the hope of finding a family, the animals begin to get sick.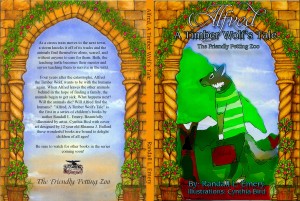 What happens next? Will the animals die? Will Alfred find the humans?  "Alfred, A Timber Wolf's Tale" is the first in a series of children's books by author Randall L. Emery. Beautifully illustrated by artist, Cynthia Bird with cover art designed by 12 year old Rhianna J. Bullard these wonderful books are bound to delight children of all ages!
Be sure to watch for other books in the series coming soon!
Alfred, A Timber Wolf's Tale By Randall L. Emery (Illustrated by Cynthia Bird)
Published by Polliwog Press, an imprint of GMTA Publishing
Cover art by: Rhianna J. Bullard.
96 ppg., 2012
ISBN-13: 978-1480119710
ISBN-10: 1480119717
Available both as a print book as well as a Kindle ebook
Here is the link for GMTA: http://www.gmtapublishing.com/
Available to buy on Amazon here.