Salisbury 4th XI vs Fareham 8th XI
After plenty of running at training on Thursday, and having only just recovered, I donned my base layers and tucked in at sweeper as Salisbury hosted a strong Fareham side who travelled to South Wilts to try their luck.
Right from the start Fareham came at us like a hurricane. They overloaded the midfield with experienced players, and if not for some last ditch defending, and some great saves from our goalkeeper Matt Salmon, the visitors could well have been ahead very early on in the game. This painted the picture for most of the first half to be honest. Fareham kept the ball really well, the exact opposite of everything we achieved. They didn't panic when they had the ball and always attempted to pass their way out of trouble, whereas we nearly always panicked and looked to play the ball forward, inevitably to one of our opponents, granting them possession and allowing them to mount another attack.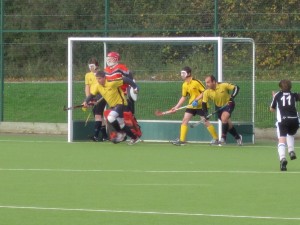 It wasn't long before this proved costly, Salisbury giving the ball away cheaply as we tried to build some sort of attacking momentum. Fareham pounced on the ball, and quickly played it up to their lone striker who, with a neat piece of skill, turned his marker and slammed the ball into the top of the net, over the onrushing keeper. 1-0 Fareham, and probably no more than they deserved. To be fair, our heads didn't go down, but it took a great deal of hard work and a huge amount of defending, to go into half time only a goal behind.
The half time team talk consisted of us talking about slowing the game down, passing to our own players, working hard off the ball and trying to win some penalty corners (something I'm pretty sure we didn't do all game).
It may just have been my perspective, but things seemed to get worse in the second half. Our passing, which could only be described as poor at best, seemed to have turned into woeful, and there was a distinct lack of shape to the midfield, which in turn made it very hard to defend against some of the younger Fareham midfielders pushing through and exploiting the space available to them. That's not to say we didn't try……..we did, but we were simply outclassed, and had perhaps given too much in chasing the ball around, and from constantly giving the ball away. In the end we conceded two goals, one from a penalty corner and one from a Peter Barrett own goal. (Peter even tried to claim the penalty corner as an own goal, proudly claiming it came off his foot.) A late surge in the last ten minutes of the game probably gave us our best passage of play, and almost certainly the greatest pressure we'd put Fareham under, but it led to more last ditch defending and, if Fareham had displayed better finishing at that point, the score could well have been higher.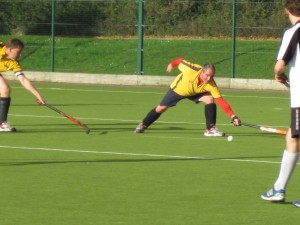 The game ended 3-0 to Fareham, probably on balance a fair result, much as it pains me to say that. Fareham's keeper was barely troubled, and the fact that we failed to win any penalty corners tells its own story.
Notable mentions go to Andy Manders for some excellent defending, Jacob Breach for some great attacking play and Matt Salmon as ever for a very solid performance in goal. Peter Barrett received 'Dick of the Day' for his two own goals, while yours truly was voted 'Man of the Match'.
A disappointing result, following a disappointing performance, would be how I'd describe today's match. Of all the things I could pick out…..it would be our passing that let us down today. Hopefully an improvement next week. Andover away next Saturday…………..here's hoping for a better performance and result. Until then…………….
Check out the photos from this match on the Bentwhistle the Dragon facebook page