Salisbury 4th XI vs Fleet & Ewshot 3rd XI
The team played without me today as I injured myself playing against Trojans last week. Nothing too bad (I hope), but since it was a friendly and not a league game, common sense dictated that I rest, instead of going training and playing. (I know what you're thinking….common sense, me..? Oh yes, very funny.) So instead I went along to support, watch and take some photos. Here follows my opinion……
The first few minutes found Salisbury defending frantically. So much was the pressure, that I thought we might concede. But, through hard work, Salisbury soon found themselves on the front foot and scored very early on in the second half, through a fine Nick Hillier goal…..what a roaming centre half he is! Encouraged by going one up, Salisbury surged forward more and more, forcing the opposition well back into their own half. Sustained pressure led to another well worked goal, but many chances seem to have been wasted on the way.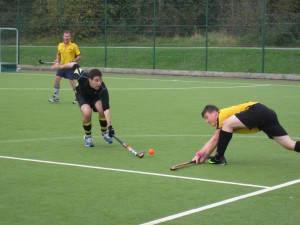 From my vantage point on the sideline, the space available on the left, high up the pitch, was huge, but the ball always seemed to go right. Don't get me wrong, we had some fab attacking play down that side, but things became more than a little bunched up, and when the ball did go out to that side of the pitch, there was nobody there. More attacking from Salisbury ensued, with a short corner or two being won, but not converted. 2-0 up at the break….something to be very happy with.
For once not being privy to the half time team talk, I sat back and watched as we started once again by attacking en masse. It worked briefly, with Fleet & Ewshot's goalkeeper being called into action on more than one occasion.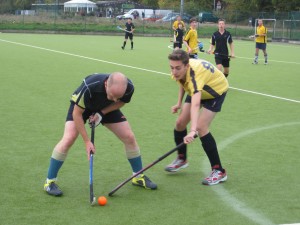 But pushing so high up the pitch left lots of space beyond our midfield, something it didn't take long for the opposition to exploit. And exploit it they did. The game became a battle of midfields, with Fleet & Ewshot probably having the better of the chances, forcing a penalty corner and providing some good attacking play, with just that final ball lacking. Salisbury had a few more chances before the end of the game, with both keepers more involved than at any other point, but I think – credit to Fleet & Ewshot for keeping the score in the second half to a draw. A good game……..very sorry not to have played in it. Hopefully hockey action for me next week. Already looking forward to training on Thursday!
Check out all the photos from the match on my facebook page.