Great night last had by all the Cude clan at the village hall in Spetisbury, listening to the wonderful band Backbeat, fundraising for Julia's House.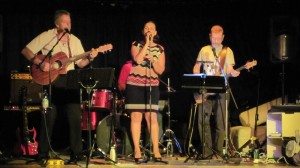 Mark Cheesley (Haunchers' prestigious captain….that's him on the left) singing his heart out and strumming on any number of guitars throughout the performance. Great night, great music, great people, great charity! Anyone looking to book and band in the Dorset, South Hampshire, South Wiltshire area…..I can thoroughly recommend Backbeat or even Mark himself. Great playlist for both, whilst being warm, welcoming and friendly towards the audience.
On a slightly different topic….I am hopefully helping out with a Salisbury hockey club reunion for all players who have ever played for either Salisbury Hockey Club, or New Sarum ladies. Hopefully more information when I next post, but should be in November some time. Watch this space!